Your passion can make you do anything. It deeply affects you and keeps us motivated. So as a tribute to your passion you find a way to express your love for it. Well, Ravi Hingal a photographer from Karnataka built a camera-shaped home. And that is not it, the passionate photographer even named his three sons Canon, Nikon and Epson. If you don't love your passion like this then is it even your passion?
Ravi Hongal lives in Belgaum and is a photographer by profession. Since childhood, photography was his passion, and his love for cameras increased as he grew up. He would take his Pentax' camera out to the nearby rural areas to click photos back then. Soon, photography became his passion and he started a business around the same. Now he has built a camera-shaped house in Belgaum.
This unique camera-shaped house is worth INR 70 lakhs.
Ravi has created the biggest attraction in Belgaum with his home which worths INR 70 Lakh. This lavish house is designed as a camera. While the facade is complete with a lens, flash, showreel, a memory card, and a viewfinder, the interiors also have ceilings and walls designed as different parts of a camera. The lens of the camera-shaped home is the window. Cheekily enough, he named his house as 'Click'.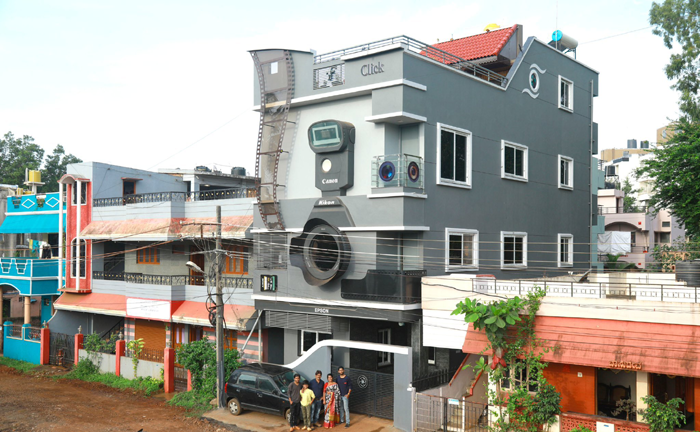 The passionate photographer from South India expressed his love for photography through is unique architecture. During the day it stands tall and gains a lot of attention. And at night, the unique yellow and white lighting makes it stand apart.
The house is designed by Key Concepts Interiors. It's definitely an Instagrammable spot and a sight to watch.
It is very rare when someone is able to turn their hobby into a passion.