Looking at the rising numbers of Coronavirus patients in Delhi, a number of hotels have been converted into COVID care centers. Many other places such as ashrams, wedding halls, and centers are being converted into COVID Care Centres. The decision was taken after there were several news reports stating that the patients are not being admitted into the hospitals because of the scarcity of beds. So, the government decided to use hotels and ashrams to cope with the current situation. Around 25 hotels in Delhi are being turned into COVID Care Centres.
What is a COVID Care Centre?
It is basically a care center facility dedicated to people who have tested positive for Coronavirus and need special care. These facilities are different from a quarantine facility, which only takes asymptomatic people required to be isolated for 14 days.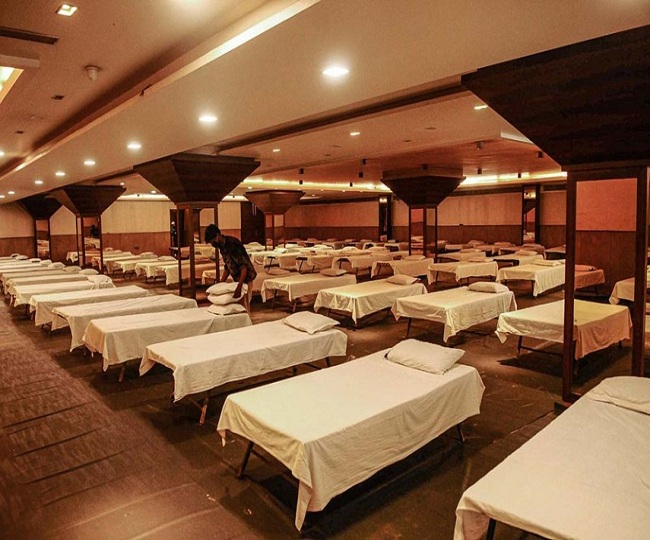 The Delhi government has selected a few hotels and has been sending out notices telling them that their hotel has been selected as COVID Care Centres and will be operated by hospital staff. However, according to reports, a few hotel staff will be trained by the medical staff to perform some basic functions.
Other than hospitals, some ashrams and wedding halls in the city are also being converted into the isolation facility with more than 10000 beds.
As of now, 25 hotels in Delhi are chosen to be repurposed as COVID Care Centres.
List of hotels that are turned in quarantine centers:
Suryaa Hotel, South Delhi
Taj Man Singh, South Block
Holy Family Hospital, Okhala
Hotel Le Meridien
J W Marriott Hotel
Vivanta by Taj
Sheraton Hotel
Le Meridien and J W Marriott will charge a tariff of Rs 4,000 plus taxes.
Other hotels like Holiday Inn and Sheraton Hotel will charge Rs 3,100 and taxes for single occupancy and Rs 4,000 and taxes for double occupancy, the order said
List of hotels that have been sent court notice:
Hotel Crowne Plaza in Rohini
Fortis Hospital in Shalimar Bagh
City Park Hotel in Pitampura
Santom Hospital in Prashant Vihar
Hotel Ramada in Pitampura
Khosla Hospital in Shalimar Bagh
Max Hospital in Shalimar Bagh
Seven Seas Hotel in Rohini
Saroj Super Speciality Hospital in Rohini
Hotel LA in Pitampura
Jaipur Golden Hospital in Rohini
Jaipur Golden Hospital in Rohini