The middle eastern region is not only a great reserve of oil but also has great examples of architectural wonders that make people travel from the opposite side of the world.
The ancient structures that managed to thrive and stand against modern architecture, have now become popular tourist spots and still serve as an inspiration for many artists.
Here is a list of some of the most iconic examples of architecture that you will find in the middle east.
Sheikh Zayed Grand Mosque, Abu Dhabi, UAE
A trip to Abu Dhabi is incomplete without visiting Sheikh Zayed Grand Mosque. 82 white marble domes and 4 minarets were converted into a building that stretches as far as the eyes go and it stands as the third largest mosque in UAE.
National Museum of Qatar, Doha
Work of a French architect, Jean Nouvel, this piece of art is said to be inspired by Desert Rose whose origin is dated back to 20th-century palace of Sheikh Abdullah bin Jassim Al Thani.
Kingdom Centre, Riyadh, KSA
It is not easy to turn your gaze from this 302.3 meters high skyscraper and imagine having an apartment in this 41 storey building. It is known to be of national importance to Saudi Arabia.
Burj Khalifa, Dubai, UAE
There is no way we can talk about Dubai and not mention Burj Khalifa. This is the world's tallest building and an astounding work of art designed by Adrian Smith. It stands 828 meters tall and has 163 floors.
Ferrari World, Abu Dhabi, UAE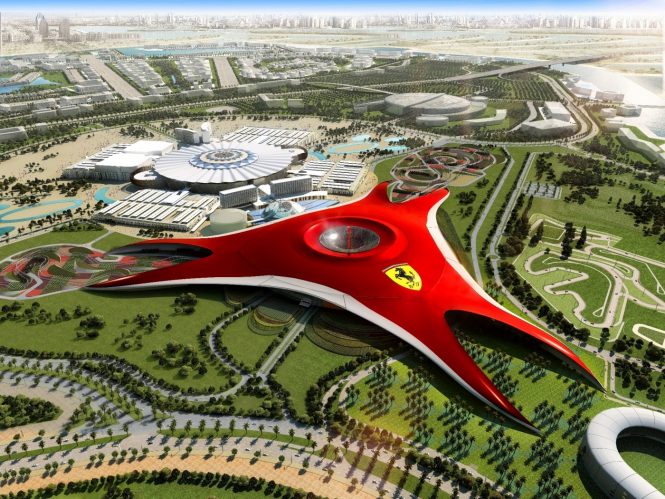 This red-colored triangular-shaped indoor themed park sports a Ferrari logo on top and never fails to draw people's attention.
Cayan Tower, Dubai, UAE
It is a spiraling tower which is also a bit tricky on the eyes and took around 7 years to complete. This is an original design by Skidmore, Owings & Merrill, known worldwide for their luxury apartment designs.
Which one do you find mesmerizing?